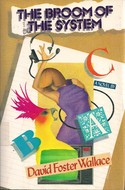 Lenore Stonecipher Beadsman is the protagonist of The Broom of the System.
She is a mysophobiac — described by her psychiatrist Dr. Curtis Jay as someone with "hygiene anxiety" — and, during the main action of the story, always wears lace-up sneakers and all-white clothing.
Lenore graduated from Oberlin College.